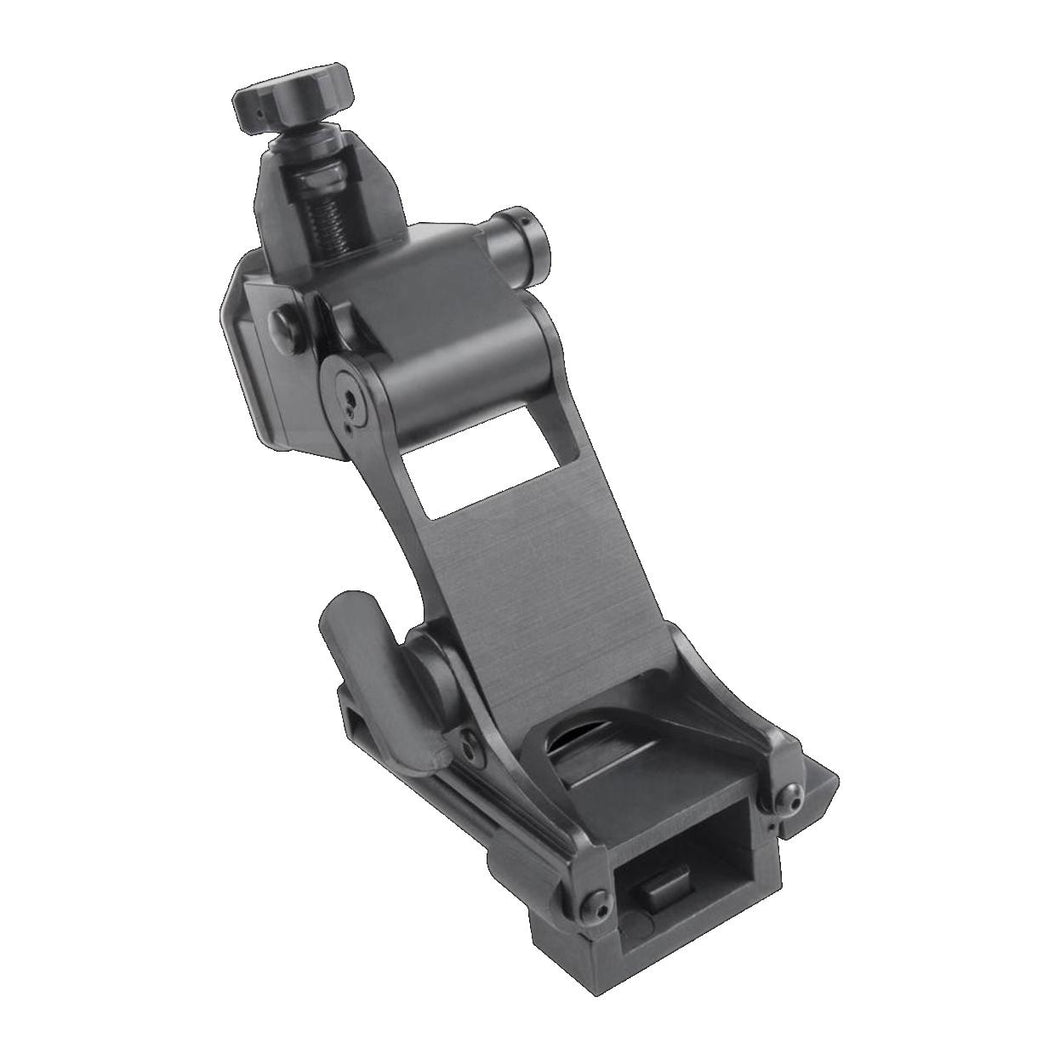 Advanced engineering experience together with manufacturing exactitude combines to reveal the TATM Long Arm—a Special Forces high-performance helmet mount for Horn style NVGs. Prepared for strenuous demands through an arduous build, the TATM Long Arm is rigorous enough to withstand extended field use while detailed enough provide optimal comfort and safety.
This Product is subject to ITAR/EAR Export Controls. Please visit our ITAR/EAR page (click here) or Contact Us for more Information.
The TATM Long Arm constructed with lightweight, high-strength aluminum and titanium completes a versatile enduring mount with Push Button Deploy/Stow Release that ensures desired engagement through accelerated operational demands with smooth and quiet operation. User-friendly safety-enhanced features permit intuitive operation with dynamic tolerance control, ensuring secure user-managed manipulation of levers, buttons, and knobs, including the patented 120-degree rotational NVG Safety Release Rotating Knob.

Compact and lightweight, The TATM Long Arm presents a device uniting superior design elegance with durable wearability and enriched Anti-Wobble stability—prepared for some of the most demanding applications and environs. This includes a custom-fit user experience enabled through Vertical, Tilt, Fore/Aft-Eye-Relief Adjustment to maximize field use.
Continuing the Norotos' commitment to continual improvement through constant evolution of products, the TATM Long Arm delivers an exceptional helmet mount prepared for exceptional field demands. Developed according to Special Forces specifications, the TATM Long Arm is rugged and durable while maintaining design elegance, including comfortable wear and expansive performance capacity.
Features
Ergonomically Optimized Vertical, Tilt, and Fore/Aft-Eye-Relief Adjustment Levers for a custom-fit user experience
Helmet Mount Release Button

 

allows quick one-handed release from Helmet Bracket or Shroud
NVG Safety Release Rotating Knob

 

(one-hand operation) will not release NVG until complete 120 degree rotation (patented feature)
Push Button Deploy/Stow Release enables single-handed smooth & quiet NVG flip-up/flip-down
Compact & Lightweight

 

while remaining durable
High-Strength, Lightweight Aluminum & Titanium Manufactured

 

helmet mount components (except pins, springs, balls, and washers)
Horn Style NVG Compatible

 

for PVS-7B/D & PVS-14
Durable Helmet Mount Surface Finishes

 

withstand extreme environmental and field conditions
Safe & Easy Operational Tactile Differentials

 

on operating levers, knobs, and buttons