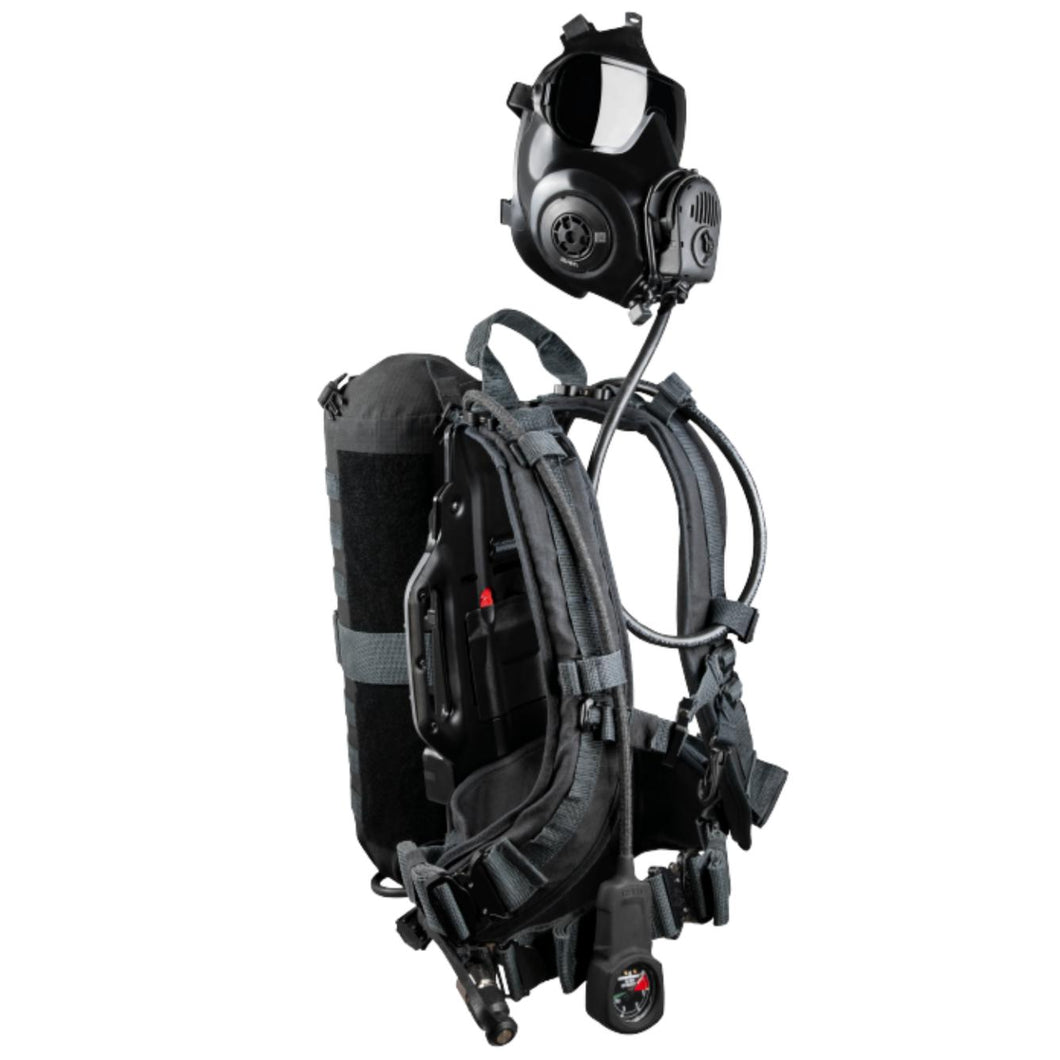 Avon's state-of-the-art ST54™ Tactical Operator SCBA has been developed specifically for the tactical officer and technician applications where the operator needs to respond to ever changing operational conditions.
This Product is subject to ITAR/EAR Export Controls. Please visit our ITAR/EAR page (click here) or Contact Us for more Information.
The ST54™ SCBA is the base to a multi-mission Respiratory Protection System which provides for operational flexibility to the operator and mission commanders in the field to tailor the PPE response based on the available intelligence. Depending on the threat or operational situation at the scene of an incident, the ST54 SCBA can be configured to provide the appropriate protection.
The ST54™ SCBA combines Avon Protection Systems' M53A1, FM53 and FM54 respirators (see respirator datasheets for further details) with new and innovative modular breathing apparatus technology to provide positive pressure SCBA and/or PAPR capability. The ST54™ system provides the operator with total flexibility to select the necessary level of protection quickly and efficiently without degradation of operational effectiveness. Designed with the tactical mission in mind, the system incorporates non-reflective black components and warning whistle, which can be silenced.
FEATURES:

Hand Compact Demand Valve (H-CDV)
1st breath activated for "instant on"

Rugged, compact design delivers high flow rates

Screw-on design allows for DIN 40 thread

Smallest on the market


Gauge & Whistle

Integrated assembly; easy access

Illuminated gauge for low-light situations in black or luminescent back grounds


Backframe
Twin carrying and single drag handle for easy of mobility

Ergonomically contoured for comfort- properly balances weight

Lightweight for reduced fatigue

Quick Disconnect buckles


Stealth Appearance

Black low profile design

Designed by special operations and LE forces

Low pressure alarm can be disengaged


TECHNICAL DATA:
** PLEASE REFER TO SPEC SHEET ABOVE
APPROVALS:

The Avon ST54 SCBA carries a NIOSH Industrial Approval under the provisions of 42 CFR 84 TC-13F in a variety of cylinder and facepiece size combinations.