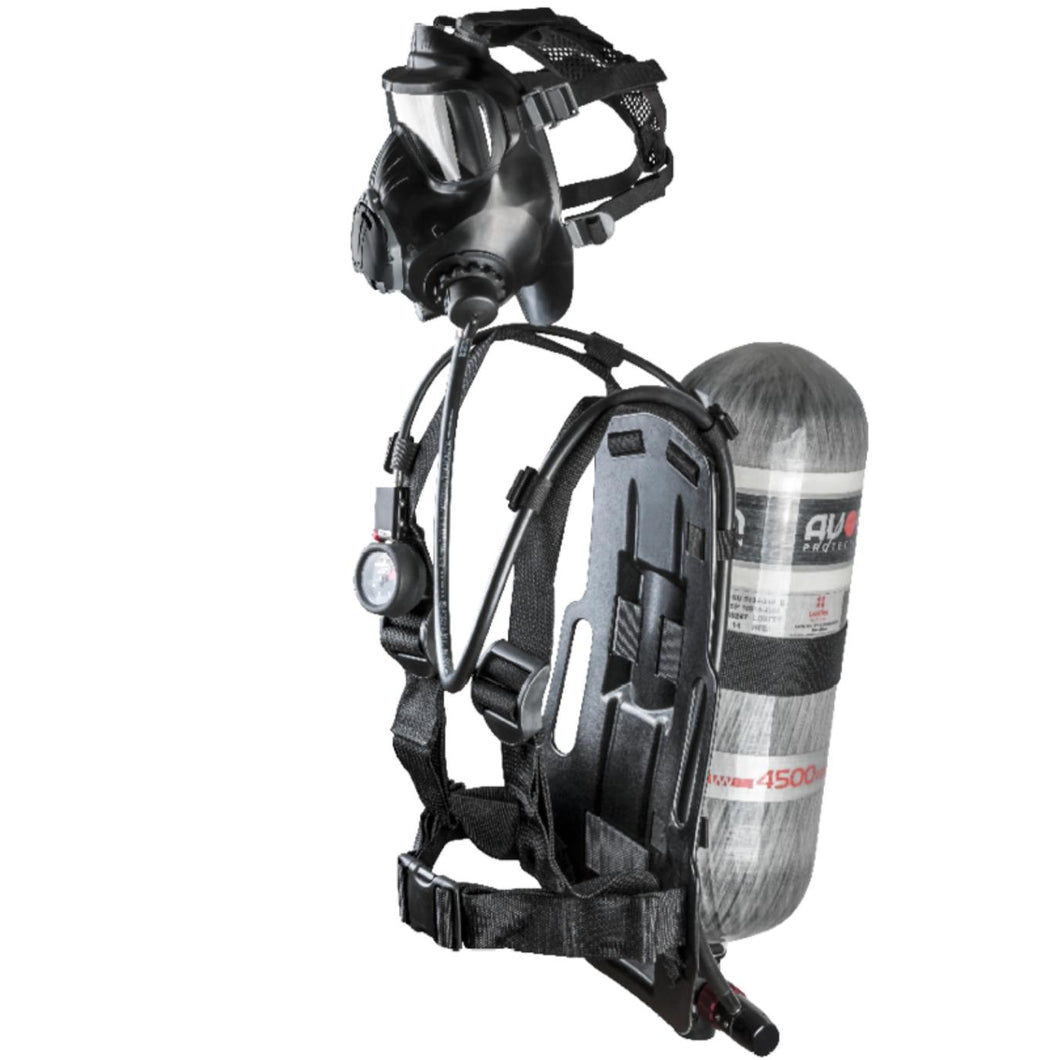 The ST50 SCBA by Avon Protection System was developed as a result of extensive field research, evaluation and voice of the customer. The lightweight ST50 is a NIOSH approved, positive pressure, simple to operate, competitively priced self-contained breathing apparatus specifically designed to meet the unique and demanding requirements of Correctional facilities and Plant security.
This Product is subject to ITAR/EAR Export Controls. Please visit our ITAR/EAR page (click here) or Contact Us for more Information.

The ST50 deploys a modified, field proven PC50+ face piece that provides high performance, extreme wearer comfort, unobstructed vision and excellent communication. The small footprint, rugged compact demand valve (CDV) delivers high flow rates to the mask while the ergonomically designed back frame and harness assembly provides a comfortable and secure fit to the operator. The ST50 can accommodate 2216 psi or 4500 psi 30, 45 or 60 minute carbon cylinders incorporating a quick release cylinder band allowing for easy exchange.
By design, the ST50 is very simple to don, operate, deploy and maintain while in parallel robust enough to withstand the punishment and extreme operational requirements of Correctional Officers and Plant Security personnel. Realizing the daily budget challenges experienced by all, the ST50 SCBA has the lowest cost of ownership within the industry and is backed by a best-in-class warranty and service support program.
Ideal for: Correctional Officers, Corrections Response Teams, Special Response Teams, Plant Safety & Security Personnel and Perimeter/Border Security.
FEATURES:

Comfort
3 face piece sizes for improved fit

Chlorobutyl rubber and silicone blend mask

Six point, easy to adjust head harness

Lightweight, comfortable backframe


Air Management

Low inhalation resistance

Heat build-up minimized

Low-re-breathed carbon dioxide

Downward exhalation valve cover


Field of View
Panoramic single lens visor

Optically correct visor

Scratch Resistant 


SCBA

Whistle & gauge

Positive pressure SCBA

Excellent integration w/ standard PPE ensembles & external communication options


TECHNICAL DATA:
Mask Protection Factor
 2500
Field of View
Weight (excluding filter)
550 grams (1.2 lbs)
Visual Field Score
> 95
SCBA Protection Factor
10,000
 
Weight of SCBA (excluding mask & cylinder)
4536 grams (10 lbs)
 
Inhalation Resistance without Filter
Sizes
30 l/min
 0.5 mbar
Fits 95% of the female / male population
Small
 90 l/min
 1.5 mbar
Medium 
 160 l/min
 3.5 mbar
Large 
 Exhalation Resistance
Donning Time
 Within 8 seconds
 85 l/m (with CTF12 filter)
 1.9 mbar
Interface with PPE
 Integrates with operational clothing,
personal issued items and riot helmets
APPROVALS:
The Avon ST50 SCBA carries a NIOSH Industrial Approval under the provisions of 42 CFR 84 TC-13F in a variety of cylinder and facepiece size combinations.
NIOSH Approval
TC-13F-0868 30-MINUTE 2216 PSIG
TC-13F-0869 30-MINUTE 4500 PSIG
TC-13F-0870 45-MINUTE 4500 PSIG
TC-13F-0871 60-MINUTE 4500 PSIG
Product Downloads