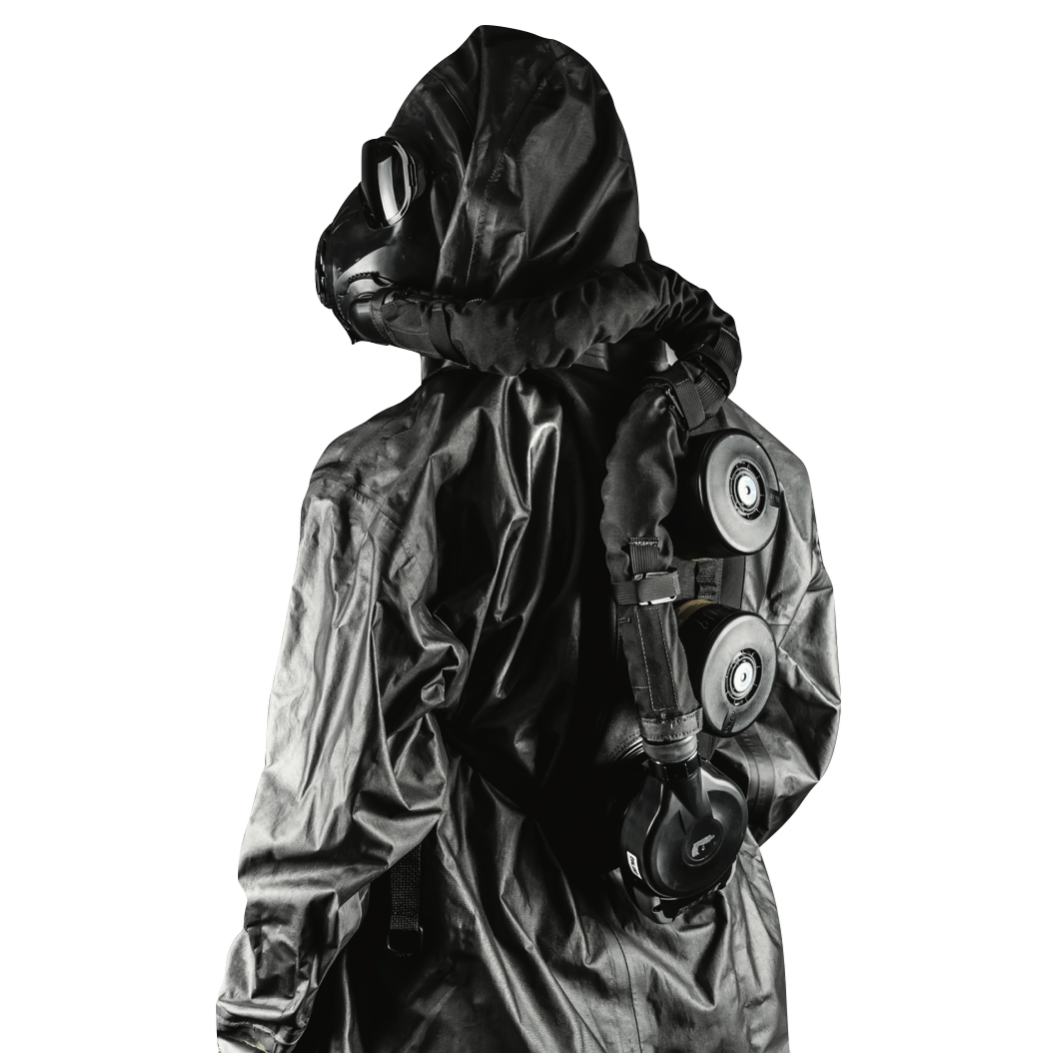 Avon Protection introduces a new generation of CBRN Powered Air Purifying Respirator, the Avon MP-PAPR™ system. A departure from traditional rigid plastic construction systems, the Avon MP-PAPR is the world's first flexible PAPR unit, constructed from the same field proven Chlorobutyl rubber, as used for the Avon 50 series masks range.
This Product is subject to ITAR/EAR Export Controls. Please visit our ITAR/EAR page (click here) or Contact Us for more Information.
HCC Tactical will send you a mobile friendly DocuSign form to easily upload your credentials for purchase.
The Avon MP-PAPR module delivers a compact and easily integrated PAPR unit providing cooling, lower user burden and reduced pulmonary stress.
The unique shape and construction allow the wearer to mount the PAPR in multiple ways, maximizing integration while delivering higher protection levels and improved well-being.
A complete set of certifications allows the user to add Avon MP-PAPR to existing fielded systems such as the 50 Series APR's, convert into a combination PAPR (Avon CS-PAPR) or revert back to an Avon EZAir configuration.


FEATURES:
Increased operational time
Multiple long duration battery packs

Constant flow rate reduces inhalation resistance

Hot swap battery for rapid exchange

Optimized Integration
Ergonomically back mounted carrier system with integrated hydration option

Direct MOLLE mount to ballistic vests or other equipment

S-Shape hose with crush proof technology delivers superior integration 

Intelligent Control Systems
Automatic flow control preserves battery life

Low flow and battery alarm alert

Automatic dual speed function

Novel Material Technologies
Unique one size lightweight and flexible hose

Dual wall construction hose which is crush proof

 



Modular Construction
Remote power switch for simple operation at the mask

Combination hose for use with supplied air cylinders


TECHNICAL SPECIFICATIONS:
Unit Size
420mm L (16.5") x 115mm H (4.5") x 140mm W (5.5")
Unit Weight (No battery or filter)
0.92 Kg (2.02 lbs)
Unit Weight (No Filter (6xCR123)
1.2 Kg (2.60 lbs)
Flow Rate
120 lpm controlled flow
Operational Noise @ 120 lpm
< 55 dBa
Run time
CR123, Li-Ion battery 4+ hours (filter clogged)

Li-Ion Recharable battery 8+ hours (filter clogged)
Operational Temperature
-20°C to 52°C
(-4°F to 123°F)
Protection Factor PAPR mode
10,000 (PAPR On), 2,000 (PAPR Off)
Alarms
Low Battery (can be silenced), restricted flow, high resistance
Construction
CBRN Hardened Butyl and Noryl
Operation
Smart integrated power button. Remote power button on hose (optional)
Interface with APR
Crush Proof hose with close fit 40mm (STANAG) APR connection, one size fits all
EMI Shielded
MIL-HDBK-235
Intrinsically Safe
No
Approvals

Type-examination approval: PPE Regulation 2016/425/EU - Module B: Certificate CE 684847

MP-PAPR certified in back mount position with PAPR Back Harness only


NIOSH  Approved CBRN PAPR Statement on Standard and Title 42 CFR84



TC-14G-0347 with C50
TC-14G-0348 with FM54
TC-14G-0349 with FM53

MP-PAPR certified in back mount position with PAPR Back Harness only
Product Downloads