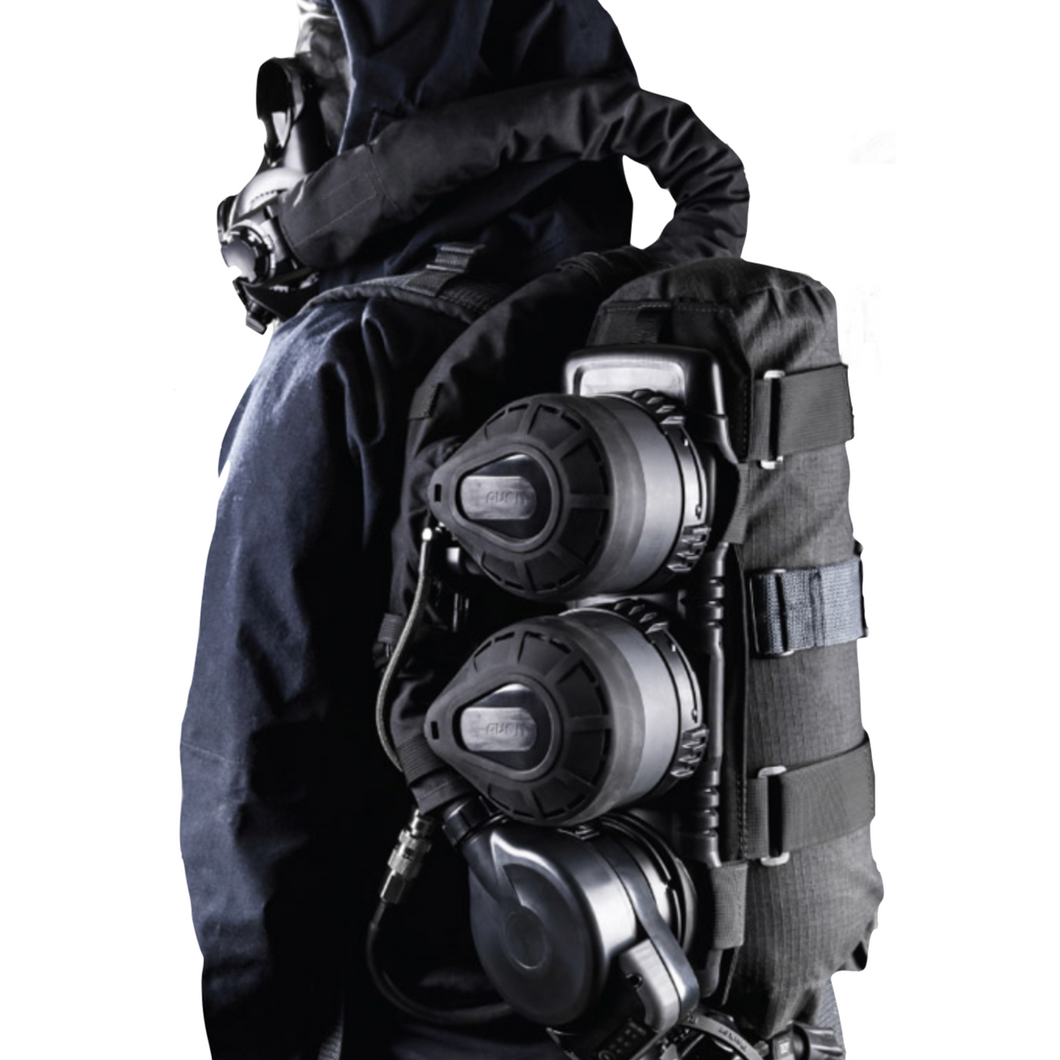 The Avon CS-PAPR™ is the newest generation of CBRN Powered Air Purifying Respirator (PAPR) designed for use in Combination Unit Respirators.
The capability to change levels of protection dependent on the threat, now provides the wearer with increased duration on target and safer operation.
This Product is subject to ITAR/EAR Export Controls. Please visit our ITAR/EAR page (click here) or Contact Us for more Information.
HCC Tactical will send you a mobile friendly DocuSign form to easily upload your credentials for purchase.
Utilizing the Avon MP-PAPR module along with the patented combination hose module, the wearer can seamlessly switch between APR, PAPR and SCBA modes of protection. The single air hose connection for all modes allows the wearer to retain a clear mask cheeks for optimum weapon sighting.
The low profile shape of the Avon CS-PAPR delivers best in class integration with SCBA systems, benefiting the wearer with reduced weight and size compared to traditional systems.
Modular Methodology allows the user to either add the Avon CS-PAPR to existing fielded systems such as the FM53/4 APR and ST53 SCBA, use as a regular PAPR (Avon MP-PAPR) or revert back to the Avon EZAir configuration.


FEATURES:
Intelligent Integration
Optional carrier module allows wearer to rapidly remove SCBA portion

Crush resistant 'S-Shape' hose with low profile hose end

Auto Filter Covers (Optional)
Quick fit onto existing Avon MP-PAPR filter mount

Pneumatically operated by the combination hose

Easy to view indicator for status updates

Integrated rubber impact bumper
Operational flexibility
Re-configurable to work as Avon EZAir or MP-PAPR

Short duration escape cylinders integrate with CS-PAPR

Patented Combination Hose
Press and turn rotary selector prevents accidental actuation

PAPR automatically powered up/down when selector rotated

Ability for user to switch modes in one simple action

'Fail-Safe' pneumatic operation of hose

TECHNICAL SPECIFICATIONS:
Unit Size
420mm L (16.5") x 115mm H (4.5") x 140mm W (5.5")
Unit Weight (No battery or filter)
1.75 kg (3.8 lbs)
Unit Weight (No Filter (6xCR123)
1.97 kg (4.3 lbs)
Flow Rate
120 lpm controlled flow
Operational Noise @ 120 lpm
60 dBa
Run time
CR123, Li-Ion battery 4+ hours (filter clogged) 10 yr

Li-Ion Recharable battery 8+ hours (filter clogged)
Operational Temperature
-30°C to 45°C
(-22°F to 113°F)
Protection Factor PAPR mode
10,000 (PAPR On), 2,000 (PAPR Off)
Protection Factor SCBA Mode
100,000
Alarms
Low Battery (can be silenced), restricted flow, high resistance
Construction
CBRN Hardened Butyl and Noryl
Operation
Integrated Rotary Selector. Wearer can select either APR, PAPR and SCBA modes by pushing in and rotating selector
Interface with APR
Crush Proof hose with close fit 40mm (STANAG) APR connection, one size fits all
EMI Shielded
MIL-HDBK-235
Approvals

Type-examination approval: PPE Regulation 2016/425/EU - Module B: Certificate CE 684849




CS-PAPR certified when attached to ST53 SCBA with PAPR SCBA Harness





NIOSH CBRN PAPR Statement of Standard and Title 42CFR 84





TC-14G-0348 with FM54

TC-14G-0349 with FM53

Not NIOSH approved with SCBA.  As MP-PAPR with Combination Hose, no SCBA attachment  NIOSH conforming variant includes approved PAPR Back Harness

Product Downloads