The shape and edge trim of Ops-Core helmet shells are specifically designed to maintain natural hearing and sound localization during normal use. The addition of hearing and communications components, such as the Ops-Core AMP Communication Headset, further enhance hearing protection and communications.

Connects AMP Communication Headsets to various push-to-talk, intercom, and radio options.
Provides high quality, environmentally sealed connection points.
Dimensions: 21" long
Immersion: IPX7
Cable Types
Binaural - The radio information that is transmitted into the earcup will be heard on both earcups.  Allows user to attach a single or dual PTT, regardless which radio is selected will be heard in both earcups.
Monaural - The radio information that is transmitted into the earcup will be heard only on the earcup it is attached to.  Allows the user to use two independent single PTTs and downlead cables to allow one ear to hear comms from one radio and the other ear to hear comms from the other radio.
Stereophonic - The Stereophonic cable serves two separate roles.  When plugged into a single PTT device it will function identical to the Binaural cable listed above. When using a Dual PTT device, it will send information only to the left or right earcup depending which PTT button is selected.  Similar to the monaural cable but is achieved with a dual PTT and single downlead vice two single PTTs / downlead cable configuration.
Aircraft ICS - Will allow the AMP headset to tie into a standard GA Intercom and will convert the mic impedance (5 ohm) to match the intercom.
EU - Works with radios that are EU wired.
Amphenol - Designed to attach to the Gentex Modular PTT cables.
Customer Reviews
Write a Review
Ask a Question
02/26/2022
Barton P.

United States
Best Comms setup on the market hands down
Hands down the only Comm setup I'll ever use from here on out!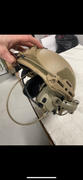 03/30/2021
Christian C.

United States
Ops core Amp down lead
Very nice product as always from opscore.