The Agilite Modular Assault Pack III or "AMAP III" is the most versatile and universal military assault pack on the market. Designed, Battle-Tested and proven in Israel and behind enemy lines with the IDF's most elite units. It has numerous unique features and capabilities that no other assaulter pack has.
Decades of experience in Israeli combat has taught us the need to be able to carry a decent load in a platform that is not cumbersome, is joggle-free and that maintains a low profile during CQB, Rotary and Vehicle based ops.

The AMAP III is an Assault/EDC Crossover pack that goes from super low-profile for short raids (4 Liters), to carrying considerable loads for longer missions or changes mid-mission (18 Liters +8 Liter Beavertail).

We've all been in short raids that turned into several day ops without warning. The ability to carry additional gear comfortably and instantly without bulky extra backpacks is critical.

The AMAP III pushes versatility and universality to new levels. It works with placards, helmets, molle pouches, velcro pouches, hydration, radios & antennas, laptops, armor, sleeping bags & sniper mats. It attaches directly on to Agilite plate carriers and other plate carriers (via conversion kit). It functions as an independent assault pack, as well as a crossover EDC pack. It's as comfortable on the battlefield as it is for weekend travel.

The new clamshell opening and military-grade, fully loop interior allows you to add countless velcro-backed pouches, in whatever configuration best suits your MOS or EDC needs and can change constantly and limitlessly as your missions do.

Additional features include a new re-worked beavertail design that allows you to carry helmets, clothing and other items. Multi-directional attachment capabilities for sniper mats and additional gear. Comms, hydration and antenna exit ports and stows, CCW draw capability, triple-density fusion foam comfort padding, detachable shoulder straps, and reinforced laser cut molle and placard attachment capabilities. It also has secure admin space for small, easy-to-lose items.

Part of the secret to the AMAP III's inordinate comfort and versatility is that this system has been refined and perfected via constant feedback from intense, daily real-world Israeli missions over so many years. The 3rd generation of AMAP, every feature on this pack is based on accumulated experience, there are no shortcuts.

The AMAP III has an optional EDC insert kit consisting of a smart padded laptop sleeve and Admin Panel. This allows you to run your AMAP III downrange and then, in seconds, switch up to a completely different configuration when going on leave or for weekend travel.

The AMAP III operates as a premium assault pack with the fusion foam shoulder straps that now come as standard, but in addition, It's the first Agilite Assault pack that can attach not only directly to Agilite plate carriers, but also to any plate carrier with Molle by way of an attach kit. There's no threading MOLLE or other timely and clumsy attachment methods needed.

Attaching your AMAP III to your plate carrier means that your entire gear and survival sustainment system is one grab away. Whether you need to catch the HELO or when facing a bad guy, you have you have everything in one grab, reducing your response time.

It also means that in a gunfight you don't have shoulder pads on shoulder pads, all moving independently and unnecessarily bulking up your shoulders and stock weld.

The AMAP III is lightweight and yet built with the finest mil spec materials. It's built to survive over a decade of non-stop use in extremely aggressive military environments.

It has travelled many miles and has crossed borders into some of the world's most dangerous places, in order to bring you the most intelligent and versatile assault pack on earth.

DETAILS:
Most Versatile and Universal Assault Pack on the market
Crossover EDC packfor additional daily use
Designed, Tested & Battle-Proven in Israel
Can be used with shoulder straps or directly attaches to the Agilite K19 Plate Carrier and K5 Plate Carrier.
Compatible with Swift Clip placard and chest rigs to add additional carrying capacity.
Advanced new proprietary beavertail design for carrying helmets, clothing and other gear.
Goes from flat and low profile (4 Liters) to fully expanded (14 liter) capacity in seconds, with an additional 8 Liters of beavertail space as well as other external carrying capabilities
Beavertail becomes additional admin pocket
Detachable shoulder straps
Directly attaches to Non-Agilite plate carriers using the AMAP III Conversion Kit (sold Separately)
Side and underside additional carrying capability for safely attaching clothing, sleeping bags, sniper mats etc.
Low profile design for use in CQB, Rotary or vehicle-based ops
Zipper admin pouch for smaller items.
Triple Layer Fusion Foam padding and rear air flow channel for extreme comfort
Designated hydration compartment
Optional EDC insert set for laptops and other EDC items.
Full clamshell opening and full Velcro® interior to attach hook pouches
Built-in ports for Hydration and Comms tubes and cables
Left and right exit ports for radio antennas and longer items
Agilite K-Series™ Compatible

SPECIFICATIONS:
500D CORDURA® Brand Mil Spec Nylon
Mil Spec polymer buckles and hardware
YKK Zippers
Velcro® Brand mounting platform
Min Volume 4 liters, max volume 18 Liters + additional 8 Liter Beavertail compartment
Laser cut Velcro MOLLE overlay panels
Hook and loop rear panel dimensions: 25cm * 9cm (9.8" x 3.5")
Triple Density Fusion Foam shoulder and rear comfort padding
Weight: 2.13lbs (0.96kg)

DIMENSIONS:
Height: 15.7" (40cm)
Width: 11" (28cm)
Depth: 7.8" (20cm)


SIZE:

FAQ's
Is the AMAP3 compatible with my Agilite Plate Carrier or do I need anything extra? Yes. The AMAP3 connects to all generations of Agilite plate carriers without any new hardware.


I own an AMAP2-Is it worth upgrading to the III? Absolutely. The AMAP3 is the latest evolution of the AMAP and has a lot of new and improved features than the AMAP2.


Can I attach the AMAP3 to a Non-Agilite Plate Carrier? Yes, you can attach the AMAP3 directly to any plate carrier with MOLLE using the K Series Conversion Kit that is sold separately.


Do I have to attach my AMAP3 directly to my plate carrier? Not at all. You can use it as a regular assault pack over your plate carrier if you prefer, simply by not removing the shoulder straps. The Shoulder straps are low-profile in order to be able to be worn comfortably over a plate carrier or other gear without being bulky.


Are the AMAP3's shoulder straps compatible with Agilite Edge Hydration Packs? Yes. You can use your AMAP3 shoulder straps to carry your Edge as a stand-alone hydration pack.


Is the AMAP III suitable for left handed shooters? Yes. The exit ports for Radio Antenna, comms/hydration tubes and ports are all completely ambidextrous and can be configured either left or right.
Customer Reviews
Write a Review
Ask a Question
06/28/2023
Grigory G.

Kazakhstan
All good!!!
I took the child as a gift. he was very pleased. I recommend the product and the store. sent very quickly.
08/26/2022
Bernard W.

United States
2 is one 1 is none
I thought it was a great idea for the panel pocket inside with the retention loops but why not have it on both sides? I used this area for chemlights and spare flashlight. Alternate side would have been great for 550 cord and binos.or range finder.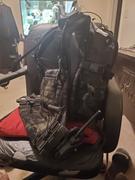 08/26/2022
RYAN C.

United States
The last bag you'll need
The Quality control is great from Agilite and innovative. Also HCC Tactical has been nothing less than awesome to do business with, second time I've done buisnesss with them and it will not be the last. Also staff Super friendly and helpful and will take care of you from point of sale to delivery A++++ service