The Wilcox AN/PVS-14 Arm with NVG Interface Shoe provides a durable connection for mounting an AN/PVS–14 goggle to a Wilcox Combat Helmet Interface Mount. 
This version of the PVS-14 J-Arm features a one-handed, Off push button that the operator can easily access to quickly turn the unit off when placing it in the stowed position.  

This Product is subject to ITAR/EAR Export Controls. Please visit our ITAR/EAR page (click here) or Contact Us for more Information.
NOTE:  This item does NOT Auto turn ON or OFF your PVS-14.  The PVS-14 will still need to be manually operated.

This version of the PVS-14 J-Arm features a one-handed, Off push button that the operator can easily access to quickly turn the unit off when placing it in the stowed position.  
It can be easily mounted and dismounted from the AN/PVS-14 goggle by means of a thumb screw, and allows the operator to select the height and angle for comfort with the ability to make fine adjustments to the Arm to customize the position of the Night Vision Goggle for proper eye position and relief.

Features:
Compatible with NVG lanyard to prevent NVG loss
Low Profile
Black Matt finish
Made of light weight metals and polymers

Features quickly accessible Off Switch to aid in rapidly stowing your PVS-14
Quickly disconnects from the helmet mount and connects into the AN/PVS-14/18 NVG Weapon Mount for night time use.  Using the Wilcox Aimpoint Comp-M Mount in front of the PVS-14 or PVS-18, the height of the system is perfectly aligned withouth the use of spacers.
Specifications:
Weight: 2.08 oz (0.06 kg).
Material Construction: Light Weight, Aerospace Grade Metals and High Strength Polymer
Accommodates: NVG Suite AN/PVS-14
Flip Mechanism: 110º of Travel (Left or Right Eye)
Customer Reviews
Write a Review
Ask a Question
08/23/2021
Dusty D.

United States
Excellent experience
Perfect product that greatly helped with getting proper eye relief for my PVS-14. Was in stock, ordered, shipped, and was at my door in a few days. Wouldn't hesitate to use again.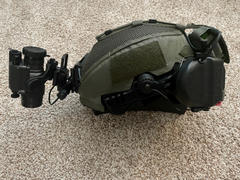 08/17/2020
Nicholas P.

United States
Disappointed
First I'd like to say my 3 stars doesn't reflect HCC, they were quick and also had a great price far better than everyone else. But the Wilcox Mount isn't worth what they are asking and the power button doesn't work 100% of the time. Actually it only works to turn them on but flipping up your nods they won't turn them off. I'm probably going to return this product, been on the fence about it but it's just not worth what Wilcox asks for it. My Wilcox stuff I have for my Binos is definitely good stuff but also way way way way over priced. What is it with company's into anything guns and thinking their **** is worth so much and it get way worse in the night vision game. A aluminum mount made by Wilcox is $500 bucks.... cost them all of $20 bucks maybe to make the damn thing and they have sold so many of them at this point that cost of machines is now irrelevant. You wanna make a lot of money? Imagine how many people would buy night vision if it was affordable, it is a very very old technology. How much do you really think an intensifier tube really costs to make? It ain't $5000 or more and the polymer tube housing? Haha probably less then $5 bucks but just for tubes with the intensifiers they run multiple thousands of dollars. I love night vision and I'm combat it does give you the edge and in ordinary life it is so much fun and I have paid the outrageous amounts over the last 10 years on a few different occasions to enjoy them so I guess I'm part of the problem here like ********* buying 556 at 80 cents a round... not it off. Anyway if you are gonna run a mono this j arm isn't any better then the next, the Wilcox mounts however though over priced are dramatically better than everything out there. HCC was great and they were quick and I would highly recommend them, I've been searching around their sight and they have a lot of great stuff on here especially for ballistic helmets and other small kit items other places don't normally carry
Hello. Just wanted to respond to your review of the product and point out that the J-arm is only an Auto ON device. They only turn them ON when you flip the Nods down, they do not turn them OFF by design; Operators never depend on the J-arm to turn their NODS off, cause if for some reason the AUTO function didn't work you would deplete your batteries and be screwed. If you read the product description it explains this. /R Mike
07/27/2020
Marc K.

United States
Perfect Solution
This thing is exactly what you need if you're setting up any tube that is compatible with PVS-14 mounting screws. On-the fly right eye or left eye alignment at the push of a button.